Mary Anderson Kroshus (1856-1904)
From the Spring Grove Herald - February 25, 1904
Mrs. John Kroshus
On Thursday morning at 10:00 o'clock, February 18, the home of John Kroshus, situated eight miles southeast of Spring Grove was cast in a gloom of sorrow by the death of its true and best protector,--wife and mother. Mrs. Kroshus together with three of her children, one boy 19 years old and a boy and girl, 6 and 8 years of age respectively, have all been confined to their beds with a severe attack of lung fever and have been in charge of a nurse, Miss Gertude Jackman of La Crosse since a week ago Wednesday, and all that medical skill could do was ministered. Mrs. Kroshus's death came after about two weeks' illness. The children are improving and are thought to be out of danger.
Deceased is a daughter of Mr. and Mrs. Ole Anderson (Kroshus). She was born in this county on the 11th day of October 1856 and has always been a resident of it since. She leaves to mourn her loss a husband and eight children, one child having preceded her in death. Also one brother, Halvor Kroshus of Perley, Minnesota who was in attendance at the funeral and two sisters who were unable to get here, besides an old mother, who has been residing with her, now 82 years of age.
The funeral services were held Monday at the Highland church, Rev. Sehus officiated. A very large concourse of relatives and friends were present to pay their last tribute to one who was endeared and highly respected by all.
***
Ole Higgen was the father of John (Johannes) Kroshus. There may be some confusion in the story told in Mary's obituary. According to census records, Mary is with her family in Iowa in 1860 and 1870. The 1880 census indicates that after her father's death Mary and her husband John O. Kroshus were running the family's farm in Winneshiek County Iowa. They returned to Spring Grove around 1900, but did not sell the Iowa farm. When Mary's husband John took over the farm from Mary's father, he assumed the name of the farm (Kroshus). Andrew Pedersen took the name Kroshus when he bought Mary's father's farm in 1853. There are, therefore, many Kroshus families in this area to whom the children of John A. Kroshus are either not related or not related in the way one would assume.
From the 1915 Iowa Census:
This card shows that, although John O. Kroshus resides in Spring Grove MN he continued to own his father-in-law's Winneshiek county IA farm. The property was valued at $15,400 and he derived $600.00 income from it in 1914.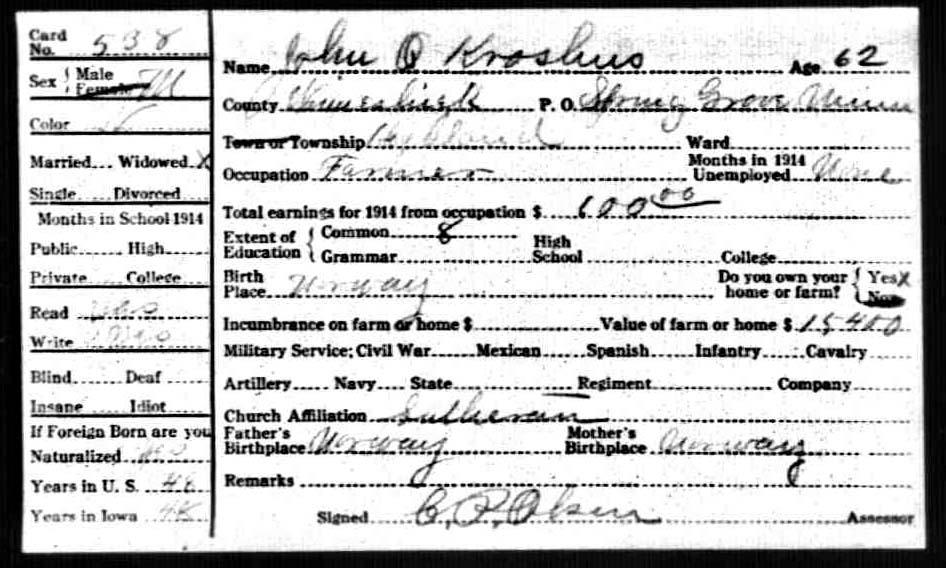 Larger image

If you have photos or information about Mary and John O.Kroshus
you'd be willing to share, please email!