From "The Brua" Newsletter for the Hadeland Lag of America August 2007 page 11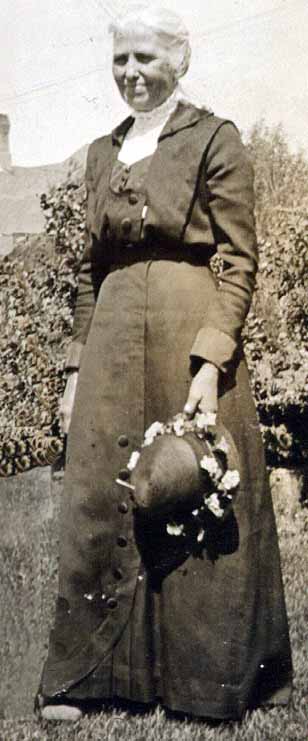 Pauline was a woman way ahead of her time: intelligent, independent and headstrong. Teaching was Pauline's passion, and she was delighted when her husband took a year-round job working for a logging company in northern Minnesota. Logging camps were no place for a lady! It wasn't considered proper for a married woman to continue as a teacher, but with her husband gone Pauline played the "woman alone with two children to support" card (despite having income from her husband's farm and his hefty salary from the logging company) and made her way back into the classroom. During his five year absence, she and her children lived with her husband's parents. Pauline was exempt from household chores and could focus all of her attention on her students and the books she loved to read.
Tongues did wag, of course, both because of the marital separation and her job outside the home. It didn't stop when Alex returned from the north, but luckily gossip never bothered Pauline. She was a night owl who thought nothing of washing a floor by lamplight at midnight ("How could she see the dirt at that hour?") and then sleeping until 7 AM ("Practically noon, and she forces her husband to get his own and the poor children's breakfasts!").
Alex would set a time of departure, but he soon learned that once outside the classroom, time, to Pauline, was relative. His sons loved to tell the story of how their dad would load them in the buggy and study his pocket watch until it was time to go. Alex would give the reins a snap and begin a slow meander down the driveway. Pauline would race from the house, petticoats flying and shoes untied, and leap into the moving vehicle. She finished with her buttons, her shoes and her hair en route to wherever they were going. Their parents might have a pleasant conversation in the buggy, but the subject of her tardiness, and his solution for it, was never discussed.
In the 1910's, her son brought her to southern Minnesota to visit her family there. A bi-plane landed in a nearby field and all the neighbors gathered for an impromptu air show. Pauline had plenty of questions for the aviator, and he offered her a ride – a dicey business in those early years. It took the combined will of half a dozen relatives to keep the 55+ year old Pauline out of the passenger seat. In her 70's, she would sigh when a plane flew overhead and say one of her great regrets was missing her one chance to "loop-de-loop."
Pauline's niece Mable had a wonderful story to tell. One of Pauline's students went on to receive advanced degrees and a noteworthy reputation in engineering. He paid her the ultimate compliment, when, upon receiving an honorary doctorate in Chicago, he allowed that everything he needed to know about basic mathematics he learned in a one room country school in Minnesota from his brilliant teacher, Pauline.