John Anderson (1823-1879) and Kari Pedersdtr (1821-1907)
John and Kari Kroshus married in Wisconsin after the deaths of their spouses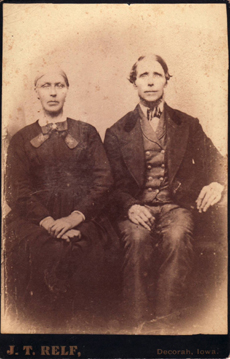 Larger image
John was born on the Molstad farm in Hadeland, Norway, on May 29, 1823 and baptized on June 8. His parents were Anders Johnson and Olina Abrahamsdtr.
Church records (the "Udflyttede") show that John and his first wife Maria and their daughter Oline gave notice of their intent to leave the Molstad farm in Hadeland, Norway for America on February 21, 1850. The family sailed from Christiania on the brig Vesta on June 25, 1850. The ship arrived in New York on September 3rd. The family settled in Clinton Township, Rock County, Wisconsin for a short time. Maria died in Wisconsin in 1851.
Kari was born on Gudmundshagen in Hadeland on Dec 30, 1821. Her parents were Peder Helgerson and Bertha Joensdtr. She left Christiania on the bark Richard Cobden May 22, 1851 with her husband, Halvor Pedersen and 2 year old daughter, Randi. They arrived in New York on August 2nd and made their way to Wisconsin. Halvor and Randi died during the same epidemic that took the life of John's wife Maria.
John and Kari were married in 1852 in Rock County, Wisconsin. In 1853 they moved to the Spring Grove MN area, and by 1855 they were permanently settled in Winneshiek County, Iowa.
Click here to check out an unidentified photo -- is it a picture of John as an old man?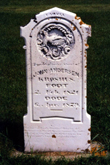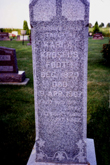 John is buried in Big Canoe Cemetery in Winneshiek County. Kari is buried at Highland Cemetery in Winneshiek County. The dates of birth on their tombstones are inconsistent with Norwegian church records. It was not unusual for immigrants to report sometimes significantly different dates of birth from those found in the records in Norway.
John's Stone - Larger Image
Kari's Stone - Larger Image

Photo of John & Kari courtesy Mary Beth Sundstad
Gravestone photos: Sandy Hennager, submitted by Randy Kroshus