Winneshiek County, Iowa
The Kroshus family made their permanent home in Highland Township (post office, village of Hesper) in
Winneshiek County, Iowa
. Mary, Anna, Peter, Pauline, and Albert were all born on the family farm there.
After John died in 1879, his son-in-law Johannes (John O. Kroshus) continued to own and operate the farm. John Anderson Kroshus is buried in Big Canoe Lutheran Cemetery, Pleasant Township. Kari died in 1907 and is buried with her daughter Mary and son-in-law John O. Kroshus in Highland Cemetery, Highland Township.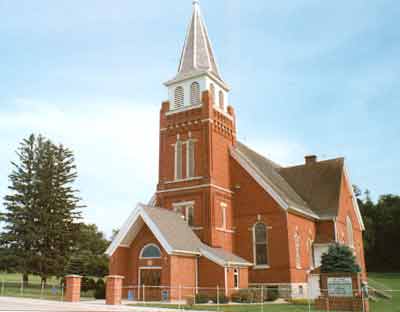 Big Canoe Lutheran Church website
Highland Township History
In early pioneer days part of Highland and Pleasant Townships were commonly known as Pleasant Prairie in 1852 to 1853. Some of the first settlers who came in and located were: the Stoens, Brunsvold, Arnesons, Mikkel Solberg, Peter Uldvikson, Paul Dagfinson, Bersie Kjomme, Kroshus, Mikkel Walhus, Wennes, Hallend, Luros, Svenung Bergan, and Ole Johnson Svartebratten.
It was about 1853 when the township, which lies in the extreme Northeast part of Winneshiek County, was organized. It is said that the early pioneers drove oxen teams to Decorah and Fremont to get their grain milled. This took one day to go, another to come back, besides one to three days to get their grain ground. Later they patronized the Spring Water mill in Canoe Township, and still later Peter Olson built a mill at Highlandville, but it was discontinued because of waterpower failure.
According to records, the first school in the township was taught by Addison Hoag, in a private house owned by N. N. Kjome. But soon a log schoolhouse was built on the four corners in the center of the township and the first teacher in that school was Samuel Atkins from just over the line in Minnesota.
Highlandville is the only platted village in the township. In 1912 when it had a population of little over 100 residents, besides the post office, it had three general stores, a blacksmith shop, creamery, one doctor, and two farm machine dealers.
On a unusual historical note is an event which took place in the summer of 1848, when a entire tribe of the Winnebago Indians, on their way from Fort Atkinson to Minnesota, camped on a farm in section 17, which is now owned by Alden Wennes. Historians write of the several hundred Indians, their campfire ceremonies and the gala events, which marked the first night away from their old camping grounds at Fort Atkinson. They were on their way to Winona, Minnesota, to be taken by steamboat further up the river to their new home.
This township history was found on the Winneshiek County Iowa USGENWEB site http://iagenweb.org/winneshiek/townships/highland.htm