Wisconsin Pioneer Certificate
Kroshus Family Members qualify for a Wisconsin Pioneer Certificate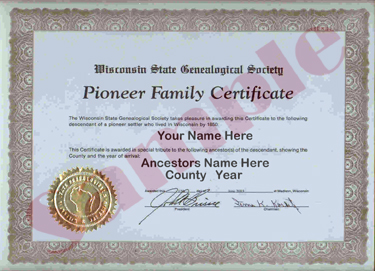 The Wisconsin State Genealogical Society offers Pioneer Certificates for direct descendants who can prove an ancestors lived in Wisconsin prior to 1851.
Documentation is required to prove residence and line of descent. A search is underway to locate church or other records verifying John and Maria Anderson Kroshus' residence in 1850. The following documentation for line of descent can be found on this website:
Proof of descent (John's children):
1860 Census (Oline, Halvor, Mary, Anne)
1870 Census (Halvor, Mary, Anne, Pauline, Albert)
Check each sibling's section for census records that can be used to verify descent for John's grandchildren. Proofs for succeeding generations may/may not be on the website.