Spring Grove, Houston County, Minnesota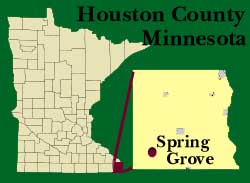 Minnesota Territory opened for settlement after a treaty was signed with the Indians in 1851. In 1853, John and his family settled in Spring Grove township, Houston County, MN.
Their oldest son Halvor was born on their farm in June of 1853.
In the fall of 1853, Andrew Pedersen walked to Spring Grove from the Muskego Settlement near Milwaukee, Wisconsin. He convinced John to sell him his farm and in 1854 the family relocated just across the border to Winneshiek County, Iowa.
Mary's husband grew up in Spring Grove. He (John O. Kroshus) moved the family back to Houston County around 1900. Mary died in 1904. Kari lived in Spring Grove with her daughter and son-in-law until her death in 1907.
From The History of Houston County, Spring Grove township:

In the southern part of the township the earliest settlers were Ole O Ulen, on section 26; John Anderson Kroshus, section 26; Ole Christopherson, sections 34 and 35, with others. The locality is known as "the valley" and contains some of the finest cultivated farms in the county.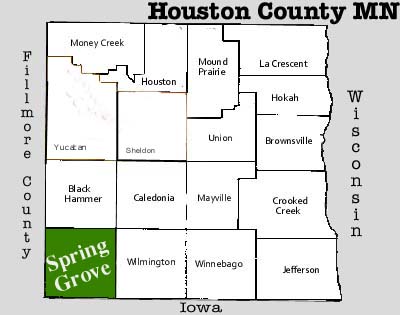 Complete History of Spring Grove Township*
History of Houston County
H C Cooper Jr & Company
Winona MN ©1919