Minnesota Territorial Pioneers
Kroshus Family Members qualify for membership in the Minnesota Territorial Pioneers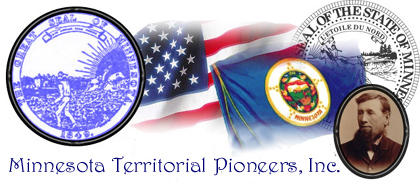 Minnesota Territorial Pioneers is an organization of descendants of those who lived in Minnesota prior to Statehood. The application fee is $15. Upon acceptance, yearly membership is $24.00.
Descendants of John Kroshus qualify for membership in MTP. Halvor Kroshus was born in MN prior to statehood, so his descendants may apply using him as their qualifying pioneer. Documentation is required for proof of residence and descent.
Proof of residence: John Anderson Kroshus
Proof of descent (John's children):
1860 Census (Oline, Halvor, Mary, Anne)
1870 Census (Halvor, Mary, Anne, Pauline, Albert)
Check each sibling's section for census records and other documents that can be used as proof of descent for John's grandchildren. Proofs for succeeding generations may/may not be available on the website.